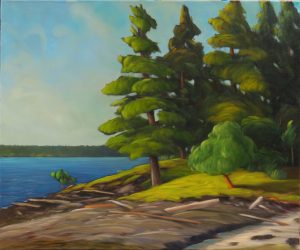 Enter the 
Holiday Raffle

for a chance to win a lovely Ross Penhall painting!
In Support of the Family Services of the North Shore Christmas Bureau
Together with our volunteers and donors, last year we supported 2,100 vulnerable North Shore neighbours with holiday baskets filled with grocery gift cards, presents, and life essentials. The need this year is greater than ever.  Our North Shore community has been hit hard by this crisis.  Our most vulnerable and low-income neighbours are struggling to meet basic human necessities such as food, transportation, and life essentials. Your support is vitally important as we respond to this widespread time of need.  It enables us to confront an unprecedented situation head-on and continue to connect with and care for our neighbours in need.  We believe that communities must take care of their most vulnerable. This is not merely an inspirational message; it is a tangible mission we will continue to fulfill – together.
The average cost to provide Christmas for a family of 4 is $500.
Enter for a chance to win "Pirates Cove", this beautiful

original painting

  generously donated by

Ross Penhall
worth $11,000!
Dimensions: 30″ x 36″ 
$100 for 1 ticket, $250 for 3 tickets
BC Gaming Event License # 127348 | Chances are 1 in 225 of winning. | 19+, Know your limit, play within it.
Problem Gambling Help Line: 1-888-795-6111 | www.bcresponsiblegambling.ca