Family Services of the North Shore is excited to nominate our Lead Volunteer Group and Darwin Properties Ltd. for the National Philanthropy Day Community Pandemic Response Giving Heart Awards, presented by the Association of Fundraising Professionals Greater Vancouver Chapter!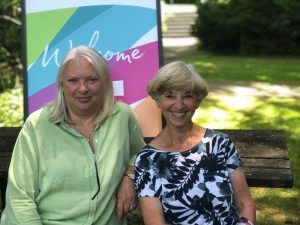 When Covid-19 hit our community, our Lead Volunteer Group, which includes Michelle Baines, Janine Campbell, Judy Cowe, Connie Earland, Beverly Montgomery, Kirsten Pejman, Alison Sawers, Rebecca Telfer, and Ria Tierns, immediately wanted to take action. They knew the 1,000+ families and seniors that Family Services of the North Shore supports at the Christmas Bureau would need assistance. With the support of our 630 volunteers, this Lead Volunteer Group helped put outreach strategies in place. Every touchpoint made with our clients was an opportunity to connect and ensure people could access mental health services, food security, and other support systems. Our Lead Volunteer Group continues to listen and respond to the needs of our neighbours who need us most, and we cannot thank them enough!
"I volunteer because I can. I volunteer because I want to make a difference. I volunteer because I have found the courage to believe in myself in a way that I have never known. I volunteer because I need the clients as much as they need me."– Michelle Baines, Lead Volunteer
Darwin Properties Ltd. has been a generous supporter and partner of Family Services of the North Shore for over 15 years. During Covid-19, they went above and beyond to ensure that the families, seniors, and individuals supported by our programs were taken care of. They have supported various initiatives and helped us pivot to the changing landscape that occurred throughout the pandemic. With their support, we were able to provide new essential services such as grocery delivery and Community Care Kits, and we were able to adapt and maintain current programming, such as our Christmas Bureau and Thrive Family Programs. Because of their dedication, we will continue to make a deep and lasting impact in our community.

"At Darwin Properties Ltd., we love everything about Family Services of the North Shore and the ways that we are able to align our business objectives while helping our community." – Oliver Webbe, CEO, Darwin
Show your support for our outstanding community partners by registering for the
National Philanthropy Day Virtual Event on
Monday, November 15, 12:00 PM – 1:00PM PST