Responding directly to the needs of our community
We are proud of our extraordinary team. Across every role and function, our staff are committed to excellence. They bring the very best of themselves to work each day.
Our team of full- and part-time employees, plus independent contractors, has both an openness to others and the courage to challenge their limits. We honour the value of all people and treat everyone with respect, care, and empathy.
We share our identity not as a prescription, but as an invitation. Join us today.
Our Team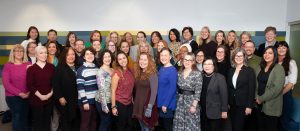 Julia Staub-French, MA, RCC
Executive Director
jsfrench@familyservices.bc.ca
Rowena de la Torre, CPA, CA
Director of Finance
delatorre@familyservices.bc.ca
Lucy Isham-Turner, CFRE
Director of Development
isham-turner@familyservices.bc.ca
Jill Johnston, MBA
Director of Communications
johnston@familyservices.bc.ca
Laurie Kohl, MA, RCC
Director of Community & Provincial Programs
kohl@familyservices.bc.ca
Kathy McLellan, MSW, RSW
Director of Clinical Programs
mclellan@familyservices.bc.ca
Kathleen Whyte, CPHR, SHRM-SCP
Senior Manager of Human Resources
whyte@familyservices.bc.ca
Navaz Daruwalla
Senior Manager of Operations
daruwalla@familyservices.bc.ca
John Dube, M.Ed, RCC, RSW
Program Manager, Family Preservation, Family Support, and Stopping The Violence
dube@familyservices.bc.ca
Kim LaForest
Manager, Thrive Family Programs and PROUD2BE Coordinator
laforest@familyservices.bc.ca
Robin Rivers
Manager, Seniors and Caregivers Connect & Companioning Community Care
rivers@familyservices.bc.ca
Clare Stedman, M.Ed., RCC, CCC
Program Manager, Clinical Services
cstedman@familyservices.bc.ca
Amy Lynn Taylor, MA
Senior Manager, Development & Major Gifts
taylor@familyservices.bc.ca
Michele Varley
Senior Manager, Volunteer & Community Engagement (including Christmas Bureau)
varley@familyservices.bc.ca
Joanna Zelichowska, MA, RCC
Manager, Jessie's Legacy Eating Disorders Prevention Program
zelichowska@familyservices.bc.ca
Jenn Hamman, MA, RTC
YouthLAB Coordinator
hamman@familyservices.bc.ca
Susan Salazar, MCP, RCC, CCC
YouthLAB Coordinator
salazar@familyservices.bc.ca