Give Corporately
Align your brand and enhance your corporate culture with one of British Columbia's most trusted voices in mental health.

Our corporate partners share our values and support our strategic vision to make a deep and lasting impact in our community. We are committed to developing unique opportunities that fit your brand and business objectives.

From corporate philanthropic investments to team-building opportunities, partnering with Family Services of the North Shore is a powerful way to achieve your corporate social responsibility goals and make a meaningful difference in the lives of others.
Ways to donate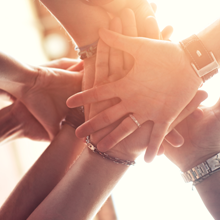 Here are some of the ways we have been working with our corporate partners:
Corporate Donations
Donate through your business or encourage your team to support the community through employee giving. You can designate your support to a specific Agency program or project that aligns with your corporate philanthropic culture – or simply give where it's needed most. Our team will work with yours to create a program that fits your company's unique culture.
Supporting our projects through a multi-year plan is also a great way to maximize your impact and create a lasting community legacy. Employee engagement, volunteer, and corporate naming opportunities for our programs are all available and can be tailored to meet your specific corporate needs.
Corporate Sponsorships
Sponsorship plays a pivotal role in the success of our fundraising events, and is a great way to enhance your corporate philanthropic profile.
Connect your brand to one of our popular signature events, such as the Winter Family Ball and Beer by the Pier. Many opportunities are available and can be customized to meet your marketing needs. Big or small sponsorships also make a significant impact in our ability to organize these cherished events. Your sponsorship will ensure that all gifts made through our events will go directly to support the families we serve.
For more information or to learn more about the many sponsorship opportunities available, please contact Lucy Isham-Turner at 604-831-1223 or isham-turner@familyservices.bc.ca
Cause Marketing
Cause-related marketing is an effective way for companies to support and promote Family Services of the North Shore while driving sales, building customer loyalty, increasing employee engagement, and differentiating your company from the competition. Examples of cause marketing partnerships include: point-of sale campaigns, percentage of sales campaigns, and sales of specific items.
Host a fundraising event
Join the many businesses who help us every year by hosting a corporate fundraising event in support of Family Services of the North Shore. We encourage you to let your imagination run wild. From bake sales to golf tournaments, pub nights, or garage sales, the possibilities to make a different are endless.
Auction Donations
Does your business have a valuable item or an experience you could donate for an auction or raffle? By donating an in-kind gift to Family Services of the North Shore, your business will receive maximum recognition through our events and campaigns. We will also provide you with a tax receipt for the fair market value of the donated goods. Your in-kind donation will enhance the excitement and energy of the bidding and, in turn, help to raise critical funds for our community.
For more information or to learn more about donating to our silent auction and raffles, please contact Rebecca Elgood at 604-988-5281 or relgood@familyservices.bc.ca.
For more information or to learn more about the many sponsorship opportunities available, please contact Lucy Isham-Turner at 604-831-1223 or
Email Lucy