2021 would have marked the 10th anniversary of the Christmas at Beach House event hosted by the Fuller Family and Beach House Restaurant in support of Family Services of the North Shore Christmas Bureau!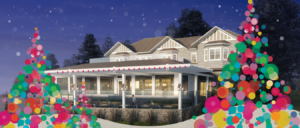 Last year, with your generous support along with the Fuller Family and Beach House Restaurant, we raised an incredible $85,000 and provided 170 gift baskets to support North Shore Christmas Bureau families, while staying at home.
Although we are not able to gather together in person this year, we hope that you will consider making a gift to help our North Shore neighbours that struggle year-round. Together we can help families create memories filled with joy, love, and a sense of home and community this holiday season.  
Thank you to the Christmas at the Beach House Committee
We are grateful for the support of the 2021 Christmas at Beach House Committee who demonstrated an unwavering commitment to making a deep and lasting impact in our community:
Co-chairs: Janice O'Sullivan and Monica Soprovich
Karen Bruk, Nancy Chapman, Wendy Currie, Jill Drever, Susan Green, Coryn Hemsley, Carlota Lee, Cindy Pasco, Mirjana Popescu, Lisa Stout, Colleen Weir, Christy Young.