Save the Date! The 10th annual Christmas at The Beach House fundraising event supporting the Christmas Bureau will be on December 7, 2022.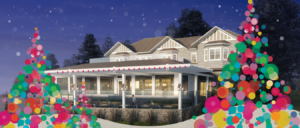 Since the first event Christmas at The Beach House has raised over $945,000!th Anniversary let's push that total over $1,000,000!
For the 10
Because of you more than 2,000 families have received gift baskets filled with toys, stuffies, teen gifts, electronics, games, warm clothing, and other essentials. This means that more children have had presents to open over
the
Holidays!
Let's get together to make a difference!
Give hope for the holidays
Each year this successful, sold-out event brings our community together to raise thousands of dollars for the Christmas Bureau. We are deeply grateful for your contribution.
Thank you to the 2022 Christmas at the Beach House Committee
Co-Chairs: Janice O'Sullivan, Monica Soprovich
Karen Bruk, Nancy Chapman, Lisa Devine, Jill Drever, Susan Green, Coryn Hemsley, Cindy Pasco, Coleen Weir, Christy Young