Support a Fundraising Event
Fundraising events organized by dedicated volunteers, in close partnership with our staff, are a wonderful way to generate much-needed funds and awareness for our programs and services.
Ways to Support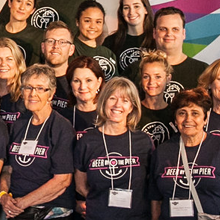 Support a fundraising event
Our events are an opportunity to bring together and engage a wide variety of Agency supporters and stakeholders, including donors, volunteers, businesses, and community groups.
There are many ways to participate in our fundraising events as a guest, volunteer, sponsor, or in-kind donor.
Sponsorships
Give your company unmatched exposure and community alignment with one of BC's most trusted voices in mental health and community services.
As an event sponsor, your company will be closely affiliated with Family Services of the North Shore and our longstanding role in providing life-changing counselling, support, education, and volunteer engagement to thousands of individuals and families.
Our sponsors gain high-profile, personal contact with a receptive audience of community-minded professionals who value companies that align with our organization. It's a partnership that pays dividends for everyone, throughout the year.
The Winter Family Ball
"Toby's Pub & Grill has been a proud sponsor of the Winter Family Ball for more than five years. Not only do our kids love attending but each year, but we also invite friends with their children, so we can share in the special night. It feels good to know that we can participate in a fun, elegant evening and make a difference, too."  Rola Priatel, Owner Toby's Pub & Grill
The Winter Family Ball is our most enduring signature event, enjoyed by thousands of families over nearly four decades who have, together, raised more than $10 million.
Nearly 600 of the North Shore's most influential business and community leaders, and their families, attend this special evening to make a philanthropic impact and change the lives of the most vulnerable members of our North Shore community.
Corporate sponsors of the Winter Family Ball also enjoy access to an audience of more than 7,000 people through a broad range of print and digital marketing avenues.
To learn more, contact Lucy Isham-Turner at 604-831-1223 or isham-turner@familyservices.bc.ca
Beer by the Pier
"Our business loves everything about Beer by the Pier and the ways we were able to align our business objectives while helping our community."  Oliver Webbe, CEO, Darwin

Say "cheers" to a brighter future for families who need our help the most.
Every June, more than 700 guests join us at the Pipe Shop in Shipbuilder's Square for a fun and energetic evening of craft beer and wine, a southern-style BBQ, live entertainment, and a dynamic silent auction.
As our sell-out fundraising event, Beer by the Pier provides corporate sponsors with creative brand recognition opportunities through on-site, traditional, and digital marketing.
To learn more, contact Lucy Isham-Turner at 604-831-1223 or isham-turner@familyservices.bc.ca
Christmas at Beach House
Christmas at Beach House is an intimate evening held annually at the Beach House Restaurant. This established event brings our community together to raise essential funds for the Christmas Bureau.
Generously hosted by the Fuller Family, this sold-out evening draws a dedicated North Shore audience who enjoy live entertainment and delicious food and drinks prepared by the Beach House Restaurant team.
To learn more, contact Lucy Isham-Turner at 604-831-1223 or isham-turner@familyservices.bc.ca
Silent auction and raffles
Does your business have a valuable item or an experience you could donate for an auction or raffle? By donating an in-kind gift to Family Services of the North Shore, your business will receive great recognition through our events and campaigns.
We will also provide you with a tax receipt for the fair market value of the donated goods. Your in-kind donation will enhance the excitement and energy of the bidding and, in turn, help to raise critical funds for our community.
The Winter Family Ball and Beer by the Pier each feature a raffle and silent auction, enjoyed by more than 1,000 combined participants.
Our guests are interested in all kinds of items, with a particular affinity for:
Experience packages
Activities, toys, and products for children and youth
Wine and food
For more information or to learn more about donating to our silent auction and raffles, please contact Rebecca Elgood at 604-988-5281 or  relgood@familyservices.bc.ca.
For more information or to learn more about the many sponsorship opportunities available, please contact Lucy Isham-Turner at 604-831-1223 or
Email Lucy