Beer by the Pier presented by Darwin Properties Ltd. is back on June 17, 2023
Family Services of the North Shore is thrilled to welcome back Beer by the Pier!
Beer by the Pier is back with a splash on Saturday, June 17  from 6:00-10:00pm the Pipe Shop Venue at the Shipyards. We are excited to connect with our community, friends, and neighbours, to come together to sip, snack, mingle, and most importantly, raise funds to support those in our community that need access to our critical services.  This year proceeds from Beer by the Pier directly supported children and youth in desperate need of mental health support, our goal is to ensure young people in our community have access to our counselling services. If you would like to make a donation and support children and youth in our community, please click here.
Beer by the Pier has been a signature summer event since it started in 2015, and is a highlight for the Agency and our supporters. This year we are excited to continue this tradition and celebrate coming back together as a community for a community! Bring your friends, family, and colleagues for a spirited evening featuring local craft breweries, delicious wine, amazing food, a silent auction, and live music – all while raising money to support vulnerable children and youth on the North Shore.
Keep up with the latest event updates on the Beer by the Pier Instagram feed.
Support Beer by the Pier
Every year, more than 700 guests join us at the Pipe Shop Venue for Beer by the Pier. As our most-attended fundraising event, this sell-out evening provides corporate sponsors with creative brand recognition opportunities through on-site, traditional, and digital marketing.
To learn more about Corporate Sponsorship, contact Amy Lynn Taylor at 778-886-2501 or email Amy Lynn.
Donate to the silent auction
Beer by the Pier features a popular raffle and silent auction. Our guests are interested in all kinds of items, with a particular affinity for:  
Experience packages

Activities, toys, and products for children and youth

Wine and food  
Learn more about becoming a silent auction donor, contact Rebecca Elgood at 236-990-8760 or email Rebecca.
Thank you to our 2023 Event Committee
Brian O'Neill and Leigh Stratton (Co-chairs), Amy Benson-Russell, Diana Cowden, Jennifer Harper Uncao, Chanelle Stollery, Justin Szott, and Beck Williams.
Thank you to our 2023 Beer by the Pier Sponsors!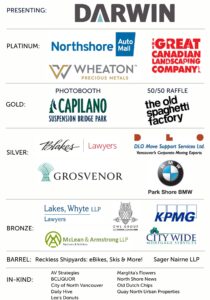 This is fantastic – truly a North Vancouver community event! I love the concept and purpose of the event, and the crowd it attracts!

– Beer by the Pier guest